Bay to Breakers 2014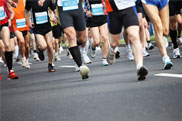 Established in 1912 to bolster the spirits of the city after the disastrous 1906 earthquake, Bay to Breakers is San Francisco's quintessential footrace. Part serious competition and part costumed celebration, this funky footrace the longest consecutively run footrace on the planet. It's also one of the largest in existence, with 70,000 to 80,000 participants each year. Bay to Breakers 2014 takes place on Sunday, May 18. It starts a few blocks north of The Embarcadero, runs west through the city and finishes at the Great Highway and Ocean Beach. The 7.5-mile long party is known for the fun and elaborate costumes that participants wear, making it one of the most exciting races to watch. Join in the fun, or find a comfortable spot along the parade route, and watch runners compete dressed as giant pink birds, Batman, the Blues Brothers, clowns, gorillas and everything else. You'll also see some athletes dressed as salmon, running "upstream" on the course.

You can also post up at the starting line to witness the traditional tortilla toss, or you can head to the end of the race and enjoy live music at the Finish Line Festival. After the race, return to our boutique hotel in Union Square and relax in your luxurious room or suite. With European-style ambiance, 24-hour room service and happy hour at Winston's Bar and Lounge, our hotel is a top choice for travelers in San Francisco. Discover friendly hospitality at every turn, and a host of convenient amenities designed to make your stay as comfortable as possible.
To book your reservations for Bay to Breakers, book online or contact us today at (415) 781-5050.