San Francisco Oracle OpenWorld 2014, September 28 - October 2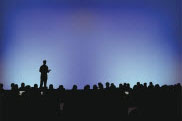 Attend the world\'s largest conference for Oracle customers and technologists at the Oracle OpenWorld convention this fall. Designed for IT managers, business decision-makers and line-of-business end users, this huge conference attracts around 40,000 attendees each year. It features more than 2,500 sessions, including keynote speakers and general seminars that cover a diverse range of technology and business topics. Network with peers from around the world, get hands-on experience, and preview the latest cutting-edge advancements from Oracle. Taking place from September 28 through October 2 in San Francisco, this annual conference is also held in the top tech cities of Shanghai and Sao Paulo. Don\'t miss your chance to learn about future business opportunities and to meet movers and shakers in the tech industry.

You must register in advance to attend Oracle OpenWorld 2014 via www.oracle.com. The conference takes place at the Moscone Center, located at the corner of Third and Howard Streets in the heart of San Francisco - just half a mile from our luxury hotel. You can walk to the conference from our hotel, and walk to other attractions like Union Square and the Financial District. We provide an elevated travel experience, with European-style décor, friendly service, and boutique rooms and suites with high-tech amenities. You\'ll enjoy a flat panel TV, free Wi-Fi, 24-hour room service, and cocktails at Winston\'s Lounge and Bar. Would you like to know more about lodging at our hotel or Oracle OpenWorld? Please call us at your convenience at 1 (415) 781-5050 for more information and to make your hotel reservations.