Savor San Francisco's Gourmet Cuisine at Outside Lands 2013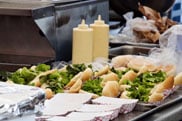 Discover why northern California's culinary scene is hailed as being among the nation's best during Outside Lands, a popular music festival that also features top cuisine, on August 9th through 11th. Since its beginnings, this food, wine, and music festival has been attracting thousands of visitors to San Francisco for a weekend at the city's esteemed Golden Gate Park.

Held at Polo Fields, Speedway Meadow, and Lindley Meadow, Outside Lands features "A Taste of the Bay Area" for the refined traveler looking to indulge on local cuisine. Favorites such as Namu Street Food and Pacific Catch are among the returning providers, while you can also sample newbies like Rib Whip, with its Midwestern-inspired food and smoker, or the Asian-inspired tacos from Kung Fu Tacos.

In addition to Beer and Wine Lands, which feature nearly 50 wineries and breweries from across the coast, Outside Lands of courseincludes talented musical acts such as Paul McCartney, The Red Hot Chili Peppers, Nine Inch Nails, and close to 60 other artists.

Tickets for this delicious and sunny three-day music festival are now on sale, priced at $249.50. You can also add on a three-day shuttle (for $39) or parking ($195) pass. Indulge your taste buds and ears during this year's biggest festival yet.