The Color Run 5K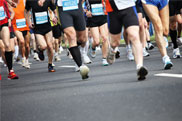 The Color Run 5K in San Francisco
October 26, 2013 at Candlestick Park

Ever wonder what it would be like to participate in a paint race? Well, this is your chance to cross the finish line splashed in several shades of success. Whether you are competitive runner or primarily walk, you can pick your pace to complete the Candlestick Park course overlooking scenic views of the bay. This is a leisurely, untimed event, so the pressure is gone. Instead, the focus is feeling free and appreciating the fun side of fitness.

You've probably seen past participants on your favorite social media channels, proudly doused in pink, green, blue, and purple in their Facebook photos. You'll start your race with your number, and finish with a t-shirt soaked in color – both badges you can boast about! You can bring your kids along to the Color Run SF, but dogs are not allowed to partake in the paint chucking festivities.

You can register for the 8 a.m. or 1 p.m., with flexibility to pick your sleeping preferences. Throughout this time frame, groups of racers will be released to help ease the crowds. If you happen to be visiting San Francisco during race day, register online to get in on this highly anticipated local action.

With the organization's commitment to charity donation, it's a win-win scenario for everyone who gets involved. You can choose from an individual or team run, with a registration fee starting at $50. Sign up before October 1st to save a few bucks with an early-bird deal.