On The Run Tour: Beyonce & Jay Z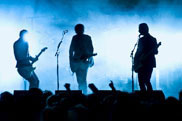 Remember when Destiny Child's Beyoncé Knowles burst into the solo scene with "Crazy in Love"? Dubbed one of the hottest tracks of all time by Rolling Stone, the song featured B's rapper husband Jay Z. This multi-platinum single shows what's possible when you bring together two of the greatest performers of our time. For more than a decade, the couple has continued to stand out for their sheer volume of pop culture smash hits, constantly paving the way for the biggest and most buzz-worthy trends in the R&B and rap genres.

Since this incredible R&B debut in 2003, both singers have been topping the charts, garnering international fame and becoming music sensations each in his and her own right. Neither a stranger to the Grammy's stage, Beyoncé and Jay Z deliver consistently back-to-back Number One hits and Top 40 Favorites. With heavy rotation on the radio and memorable music videos, Beyoncé is perhaps best known for her acclaimed hits like "Irreplaceable", "Single Ladies", "Run the World" and "Naugty Girl". Jay Z, has created a NYC anthem with "New York State of Mind" (featuring Alicia Keys), with earlier songs like "Hard Knock Life" catapulting him to the ranks of super stardom.

The On the Run Tour is sure to deliver a set list you can sing along to as you enjoy the gorgeous costumes, spectacular sets, and elaborately choreographed dancing. You can buy tickets online for the AT&T Stadium show, starting at 8 p.m. on August 5th. If the faux movie trailer is any indicator, the show-stopping entertainment is bound to deliver dramatic energy that leaves crowds on their feet cheering for more. This summer, you may have 99 problems – but missing Beyoncé and Jay Z in San Francisco shouldn't be one of them.